I just LOVE scouring thrift stores, flea markets, and yard sales for fabulous vintage finds. A question I often get is "what are you going to do with all that…. stuff?" The "stuff" I buy are the things that intrigue me, evoke memories of my youth, or that simply bring me joy. Your home is your sanctuary, why not surround yourself with things that bring you joy? Here are 7 cool ways to display and enjoy the "stuff" that you find on your picking journeys.
Clipping ephemera and photos to chippie vintage door hinges is a creative way to display your ephemera collections and old photos.  You can use vintage clothespins, clamps, or vintage inspired clamps to hold your goodies.  
Subscribe to my YouTube Channel for more upcycling ideas and tutorials.
Don't throw away those antique mortise locks.  You can use them to create mini display shelves for your collections.  Here I screwed one to my wall with the striking plate facing the wall.  Be sure and screw into a stud if you plan to display something heavy.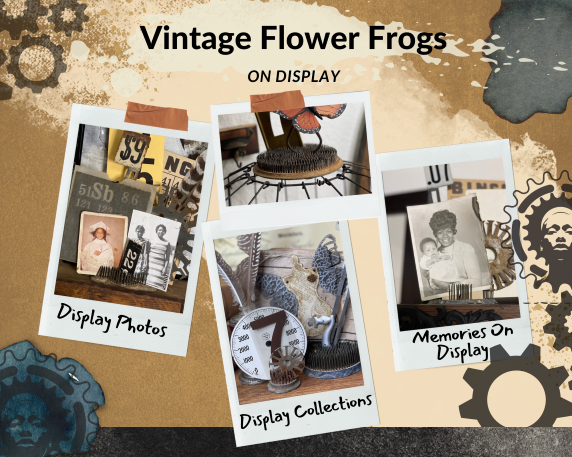 Vintage metal flower frogs make easy work of displaying vintage ephemeral collections, photos, and small finds.  The weight grounds your collections, and the teeth provide a ton of opportunity in small spaces.  
Grouping your vintage finds is  a great way to add impact.  Put your grouping inside of a cloche, and now it is extra special!  Cloches create opportunities to display your vintage finds, seasonal decor, and/or your fabulous creations.  Learn to create your own nest.  The tutorial can be found here on my YouTube Channel.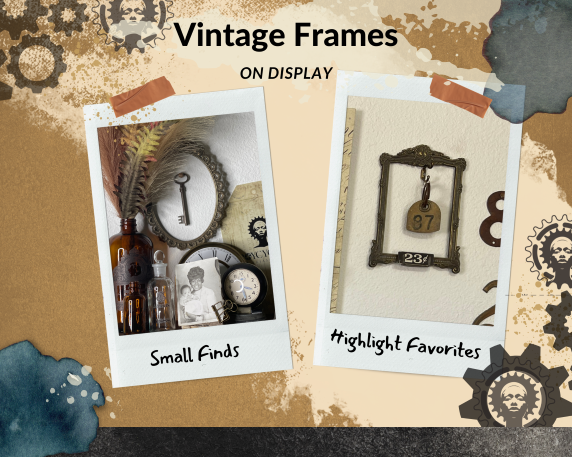 Don't you just love when you score a vintage metal frame!?  Rarely do I find one that still has the backing and the glass intact.  No worries, I just hang them on the wall and add one of my small finds inside.  It's a great way to highlight your favorite treasures.
Join Roycycled Insiders! 
Roycycled insiders are always the first to know anything new.  Get resources to help you grow creatively, and never miss a thing
Using vintage books in your displays is a great way to add interest.  You can use books to highlight items in your displays and create varying heights in your vignettes.  Books also add texture and color to your space.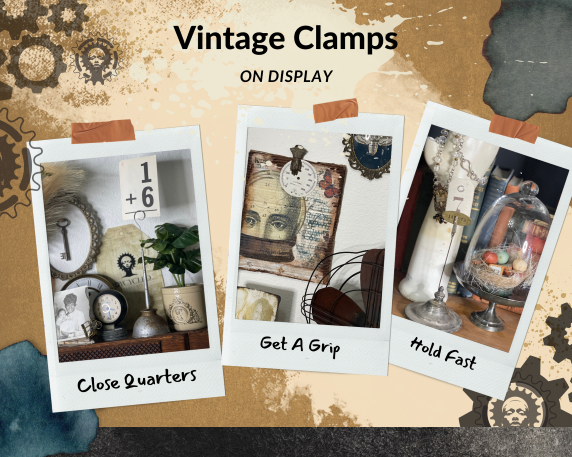 You can use clamps as a creative way to display artwork, photos, and ephemera.  I love integrating clamps and displaying my treasures in tight spaces.  The next time you see one of those photo display shelf sitters at the thrift store snag it!  You can use the clips with your treasures to create custom display clips like the ones shown above.